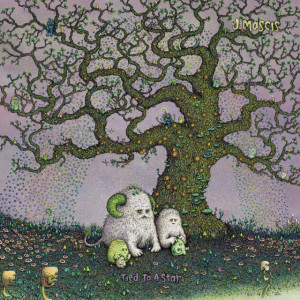 ***Sometimes it's a very lucky thing to stumble upon an established artist that you've heard of but never actually heard because you come into a new album with no preconceptions. I know J Mascis played in Dinosaur Jr but I've never actually heard them. I've heard his guitar work on a few songs but I probably couldn't pick it out of a crowd. As far as I'm concerned, he's brand new.***
Tied To A Star sounds like a labor of love recorded in maybe a bedroom and living room of one guy's house. It's a do-it-yourself wall of sound production – layers of the same acoustic guitar, an electric guitar hidden somewhere to beef it up, and on rare occasion even some drums. The versatility of the acoustic guitar here is really quite impressive. It is melodic, percussive, busy but not showy, and most importantly it carries J's voice from what could be a dull trip to a journey more fun than a largely acoustic album should be. By the way, that's not a knock on his voice either. I can't listen to this album without immediately thinking of some sort of Pete Yorn/Eddie Vedder love child. The sparseness of this recording captures a fragility in the male voice that most singers don't embrace the way J Mascis does.
Stand out track, Heal The Star, probably is also the song that best showcases the depth of what can be done with a simple sounding record. In less than five minutes, Mascis drives from acoustic pop-land, through grunge-town, picks up some speed and ends up in India…all without sounding remotely planned or contrived. Also, it should be noted that anyone who can sneak Cat Power onto their record is doing something special.
Buy the album, wait for true night(like after 11PM), find a road you can drive for at least forty minutes without making a turn, roll down the windows, then let the album play over you and just drive.
peace,
Daniel