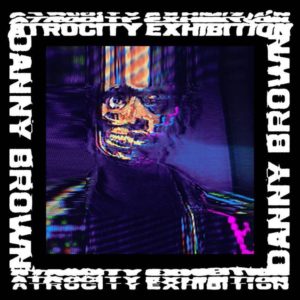 When Outkast released Aquemini in 1998, they announced to the world that rap was every bit as musically rich and freely weird as any other genre. That album created a blueprint that was only followed by a small number of artists after them. There has been a small handful of significant albums that could claim to be the artistic descendants of Aquemini – Blazing Arrow by Blackalicious, My Beautiful Dark Twisted Fantasy by Kanye West, and To Pimp A Butterfly by Kendrick Lamar – and after today's surprise release of Atrocity Exhibition by Danny Brown, there is a new album to add to that list.
Danny Brown is marching to his own beat on Atrocity Exhibition. There aren't any old soul song samples, no radio hits, no Rihanna hooks, no warbled singing; there is very little on this album that a casual listener would find engaging. Therein lies the beauty, by accepting his outsider status and not simply making an album geared to propel him to Lollapalooza headliner status, Danny Brown has given himself the freedom to make music that actually demands to be listened to as art. The only track in his previous catalog that touches on the brilliance of this album is Torture from 2013's Old.
The two different voices that Danny Brown employs, the slow and low thoughtful narrator and the hyper-spastic addict, create the ebb and flow of Atrocity Exhibition. The push and pull of these two voices cover the album with a cloud of bi-polarity. Both voices are real, both voices are honest, one brags about the party and one recounts the repercussions. Any songwriter can tell you how they feel but it takes a true artist to make you feel the way they do.
I saw Danny Brown at SXSW in 2012 at Mohawk, sandwiched between Youth Lagoon and The War On Drugs. Needless to say, most of the crowd wasn't really there to see him. It took him all of three seconds to win that whole crowd over. He came out with insane hair, shorts, and cowboy boots and he took command of the stage and went against any sort of preconceived notion of what a rap show could be. It was absolute punk. By that same token, Atrocity Exhibition is absolutely punk. It isn't any one thing and it certainly isn't anything you expect. The lead single, When It Rain, begs for heavy driving bass and it holds anything resembling a low-end out until the song is half over. Dance In The Water is one of the best dance/world-trance/rock songs ever released. Get Hi is an uplifting choral song featuring B-Real that explains, in the sunniest way possible, why sometimes you just need to get high in order to mentally survive. Tell Me What I Don't Know has one of the most effective percussion tracks I've heard this side of a Tool album. The album is so incredibly random and all over the board but in the very best way possible. This album wasn't made for anyone other than Danny Brown and, ultimately, that's what makes the album so thrilling. It is rap, hip-hop, indie, and punk all rolled into one messy little package that is one of the best albums of the year.
peace,
daniel