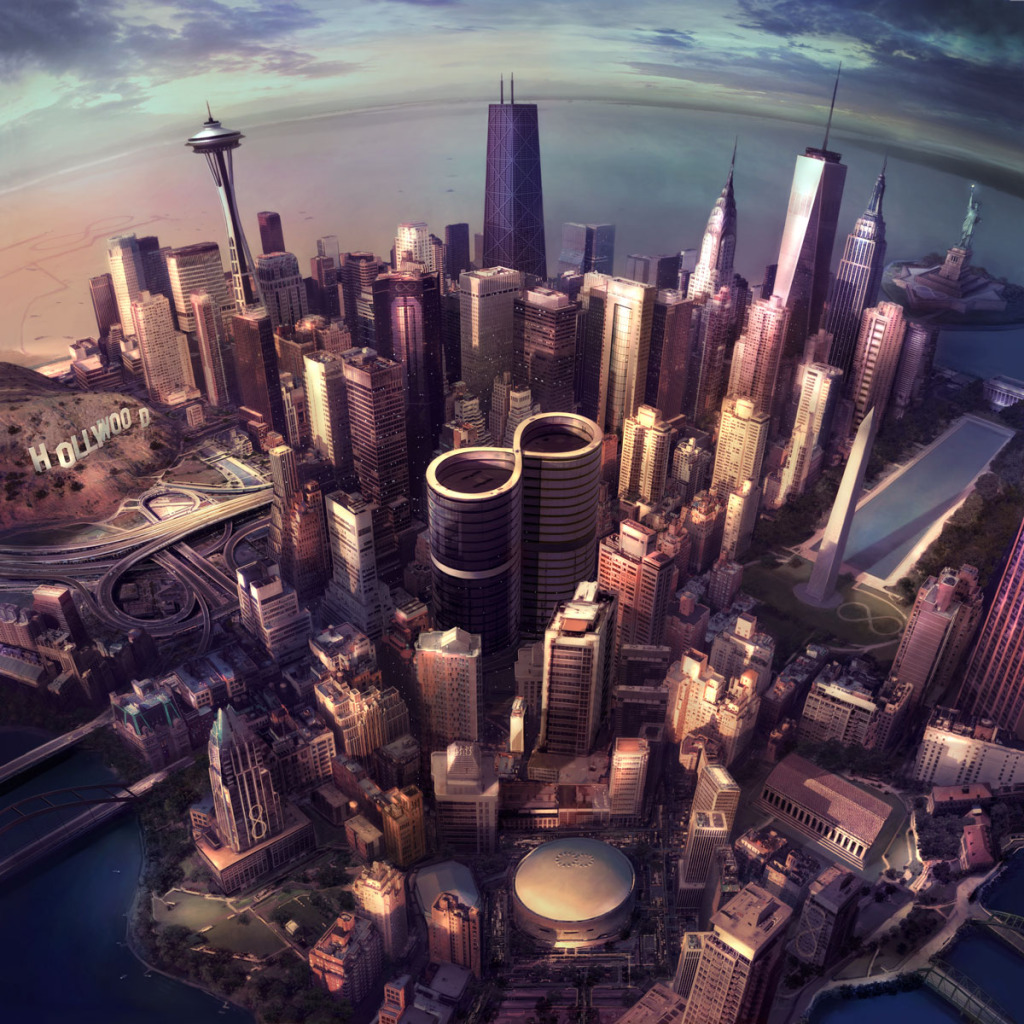 Sonic Highways finds Foo Fighters mired in an identity crisis; stuck at the proverbial crossroads of their own various sonic highways. Are Foo Fighters a modern rock band or are they flag-bearers for music history? Are they still relevant or are they and peers such as Pearl Jam becoming my generation's Bruce Springsteen and Rolling Stones aka still producing greatest hits touring machines? I contend that Sonic Highways is proof that the Foo Fighters as we have known them should take a rest in order to let the true identity of the Foo Fighters shine through. 
Before continuing, I must address the elephant in the room – there is a difference between the album and the tv show, Foo Fighters: Sonic Highways(HBO). The TV show is an exceptional piece of work, chronicling the music history of various cities and how it shapes the sounds of bands that come from them. On one hand, watching the Foo Fighters spend one week steeped in one local culture, one could expect that the song produced in that town would have a particular sound. It is quickly evident that Sonic Highways is still very much a Foo Fighters album, much to the chagrin of those looking for something different.
Look at this list of guest musicians on the album: Cheap Trick, Joe Walsh, Joan Jett, Zac Brown, Ben Gibbard, Gary Clark Jr, Preservation Hall Jazz Band, and Bad Brains. Watching these guests bond with the band on tv and walk through history, you can't help but think that never has so little been done with so much. There is an embarrassment of musical riches present, so how did Sonic Highways end up sounding so much like a regular Foo Fighters record?
The answer is that the band is holding themselves back by holding on to their own pasts. Foo Fighters were a hit machine in the 90's and early 2000's. Fans following the band on their journey past that point began to see hints of the direction Foo Fighters really wanted to go. On One By One we heard Foo Fighters turn dark and take their first prog-turn. In Your Honor saw the Foos embrace a wider landscape and toy with different instruments and arrangements. Echoes, Silence, Patience & Grace and Wasting Light both saw the band working through non-traditional rhythms while staying in the realm of popular music. With each album, the band has strayed further from their roots be it in tone or musicality, but they still hung on to the idea they need to be a singles band and produce a radio hit.
There has been an underlying progressive theme running in the Foo Fighters' blood for over a decade now and Sonic Highways is where the dam must finally break loose. There are no hit singles on this record and at this point in their careers there is no need for any. The albums finest moments come when the band cuts ties creating a pop song. Songs like Outside and God As My Witness are proof the band simply doesn't need to write traditionally anymore. Album closer, I Am A River is as anthemic of a closer as anything else this side of Hey Jude, but it's certainly not a hit single.
Sonic Highways is a good, not great, album. Its need to stay within the current confines of a "Foo Fighters," song hold back its true potential. Many of the songs in this collection will be amazing in a live setting but I just don't know how many times I'll break out this album to listen to all the way through. Of all the sonic highways the Foo Fighters have travelled, their most important one lies ahead of them – the unknown…if they have the courage to take it.
peace,
daniel