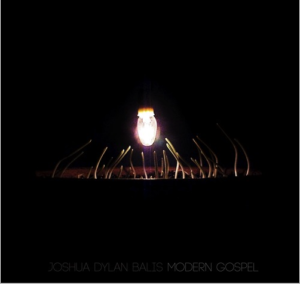 Sometimes opening acts are amazing. Sometimes they don't immediately grab you by the ears, so you go the bar the get a drink. And, sometimes, while you're at the bar, you hear something that you didn't hear at first and find yourself drawn back to the front of the stage. Modern Gospel, the debut album by Joshua Dylan Balis, is like that slow-burning, unassuming opening act.
Modern Gospel opens with "Love In Youth," a well-written but ultimately generic singer-songwriter track. Balis' voice is comfortable and holds the melody well but the song doesn't stand out from the ocean of other nice folk songs. So, here we are at the bar. Hang on a second, now what's that? The following track, "Breaking Symmetry," is maybe one of the best songs I have heard in 2016. The song builds and builds and builds around a droning note, the same way Velvet Underground did on Heroin, until the guitars and drums and screaming vocals shatter the tranquil stage that the first song set…maybe there was something to that first song after all.
The core of the album settles into a sustainable groove, somewhere between Ryan Adams and Nick Drake, and achieves the ever so difficult balance of being both subtle and engaging. "When You Were Mine," is another stand out track for the simple fact that it is gorgeously and breathtakingly tragic. Balis' nuanced performance here captures the longing feeling that hovers over the otherwise sparse instrumentation.
At just over 21 minutes, Modern Gospel leaves you wanting more. Most artists, on their first time out, err on the side of excess in terms of production and running time but Balis falls victim to neither. A debut album that is as confident yet restrained as Modern Gospel creates a unique cushion for an artist. They have already proven themselves capable and have now earned the leeway to open up the throttle on the next venture out. One of the things I love most about an artist's first album is that you get to see the hints and traces of who they have been and who they might become. Joshua Dylan Balis has been a singer-songwriter, a good one at that, but songs like "Breaking Symmetry," and "When You Were Mine," show the kind of power he is capable of and point to a very promising future.
peace,
daniel
recommended if you like: Ryan Adams, Nick Drake, Langhorne Slim, Jason Isbell, Andrew Yenne
https://itunes.apple.com/us/album/modern-gospel-ep/id1158485912