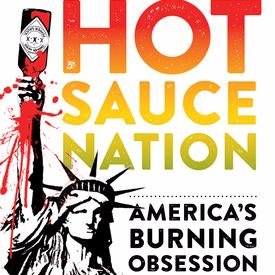 I used to be a reader. In home school there was little else to do. By the time I started public school in 8th grade, I had read everything I would be assigned to read through senior year AP English, with the exception of The Handmaid's Tale. After high school, I became so engrossed in playing/listening to/seeing music that books were largely a thing of the past. I can sum up the books I have read, post-2001, in a few simple categories: music biographies, books about dragons, clever books by fashionably eccentric hit-or-miss authors (Palahniuk/Vonnegut/BEE), and books by Denver Nicks. I knew Denver from college and he introduced me to Fugazi via a decently played riff on his acoustic guitar, so any time he writes a book, I make a point to read it.
In 2012, Denver Nicks wrote Private: Bradley Manning, WikiLeaks, and the Biggest Exposure of Official Secrets in American History. In 2016, he followed that up with Hot Sauce Nation: America's Burning Obsession. A book wrought with exclusive insight and access to an important and intriguing story of national security has been followed up by a book about hot sauce.
When one begins reading a book about hot sauce, there are absolutely limits of expectation. A written history of the cultivation of peppers/chiles/chilis in America sounds ironically drab for such a fiery topic. As any good history professor will…profess…the matter-of-fact recounting of an event isn't nearly as important as the context in which it occurred or how we view our present through these new viewpoints. Nicks has managed to sneak a road novel into a hot sauce history class. History can be boring and road novels are often self-indulgent and yet this combination is delightfully neither.
For every passage relegated to the origin of different chilis, Nicks provides context for what that history actually means. The spotty bits of American history – wars, slavery, things like that – brought seeds and recipes along with them. The seeds and the recipes are factual and tangible but the traditions and stories surrounding those seeds and recipes are far more interesting because they reveal actual culture. Tracing lineage is one thing but hearing stories from great-grandparents is another thing entirely and Nicks weaves these threads together into a compelling saga.
Nicks doesn't describe a scene with flowery prose to create a "sense," of the reader being there. He simply tells a story about how it was, the kind of story you hear over a few drinks with a friend. Immigration, politics, economics, cross-pollination, ennui, and bravado are all reasons posited for the obsession the US has had regarding hot sauce over the last fifteen years.
As the page numbers started creeping towards the bibliography section, I couldn't help but wonder if I had just read a very amusing travel log of little impact. In that moment, this collection of vignettes turned into something much greater than the sum of its parts. Nicks hides the thesis until the end. In the span of the last few, incredibly beautifully written pages, he confronts us with philosophy and existential crisis and the role that hot sauce can play in literally changing the way you look at life.
peace,
daniel