Nine Inch Nails/Soundgarden – Gexa Energy Pavillion, Dallas, TX 8/17/14
NEVER underestimate old man strength or judge a book by its cover.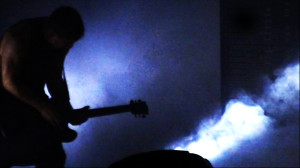 (because I showed up as Soundgarden was taking the stage, I shall forego reviewing/making up words about the opening band Cold Cave and just assume they were consummate professionals and a perfect opening act)
My friend had heard on the radio this week that Soundgarden was not worth seeing live, they were old and washed up, save your money. I told my friend to immediately get a ticket. Nine Inch Nails and Soundgarden is a concert bill that shouldn't even exist. They've been friendly enemies for years and both bands are far past their popular prime. So why bother going out to Fair Park to see them? The simple answer is history and the future.
Both Nine Inch Nails and Soundgarden commercially peaked in 1994. Soundgarden broke up in 1997 and NIN stopped functioning after 1999. When I was a senior in high school, the idea of ever getting to see either of these bands in concert was as far out as hoping to see Led Zeppelin when they came through town. From the standpoint of history, the opportunity to see the bands who created Superunknown, The Downward Spiral, Down on the Upside, The Fragile, is one that cannot be skipped. See it, say you saw it, buy the t-shirt. The future, however, is a much more interesting proposition.
Both bands represent the old guard finding their way in the new media. There is no artist who has influenced me as much as Trent Reznor of Nine Inch Nails, but the reason he/NIN is more popular than Soundgarden is in large part due to social media. Reznor championed the avenue. He embraced fan sites, Myspace, Facebook, and Twitter immediately as they came out. There were missteps along the way but it kept the blood pumping and the momentum alive. Soundgarden disappeared in 1997. The mystique of coming back versus the familiarity of knowing what someone had for breakfast.
The difference in approach and result is abundantly clear. Most musicians will tell you Soundgarden is the more complex and intriguing band. Most studio guys will tell you NIN is the hidden gem. Most radio listeners will ask, "aren't they from the 90's?" Time away + complexity of style = how hard is it to come back? Soundgarden was incredible tonight. They played zero songs in straight 4/4 time. There is nothing you can just bang your head with and there is nothing you can easily sing along to…but it's brilliant. Nine Inch Nails was incredible tonight. They played with every ounce of energy they had and the sound system sucked out every ounce of energy they expended…but they were brilliant. Both bands ran through a flurry of classics and peppered in some deep tracks. Both bands threw in one or two songs from their new albums as well. People screamed along with Nine Inch Nails and the crowd collectively left to get beer with Soundgarden. Were the songs really all that different? No. But NIN spent years keeping their fans engaged so they knew the words when those new songs got played. No one sells albums anymore, you have to sell people on twitter and then sell them to see you live and then sell them to actually listen and then sell them on buying a shirt. It's a harder world than when Soundgarden and Nine Inch Nails started but it does shine a very highlighted light on what any new band needs to do to thrive. Be engaging and engaged.
None of this has actually been a real review of the show…I think the idea of seeing two bands on the 20th anniversary of their biggest albums was just an interesting spot to comment on.
(review) Soundgarden was nothing short of fantastic. Cornell/Shepherd/Thayil/Chamberlain (*usual drummer Matt Cameron is on vacation), were all collectively on top of their game. There were zero weak links. Cornell talked between the songs, explaining the previous and current context, as if he was just a baby band starting out because he still cares that people get it. Cameron and Shepherd were thunderous and Kim Thayil is somehow able to pull off bizarre middle eastern leads and still not need a rhythm guitar to hold down the fort. There is power left in this band and anyone who dismisses them off of age is sorely mistaken.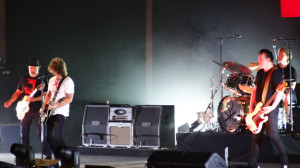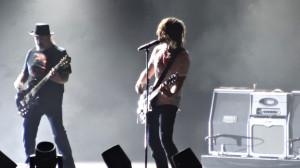 (review) NIN is Trent Reznor…so says the liner notes on all his albums. But live, NIN, is a fierce unit. Honestly I don't know everyone on stage tonight but I saw Robin Finck and Ilan Rubin and the two of them alone are worth buying a ticket for. Robin is a figurehead in this musical community and has the most distinctive tones that immediately pierce through the sound. Ilan was a professional drummer before he was 20, playing with Smashing Pumpkins, Lost Prophets, NIN, solo records, and other assorted projects. You put a few guys who can bring some fire onto a stage with Trent Reznor and you've got quite a show on your hands. The sound system failed them…it was literally as loud as a high school musical. You could put a baby's ear up to the PA system and the baby wouldn't even make a face. Regardless, the band kept going and slapped the crowd on the back and let us know they were going to be at least trying to make some noise for a while.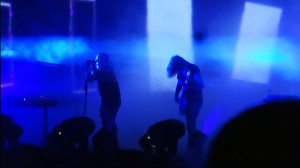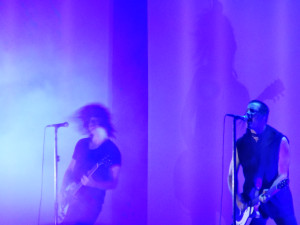 People said Chris Cornell was too old to sing now. People said Trent Reznor was too goth to be fun. People heard Soundgarden shake the earth tonight. People barely heard NIN and that, unfortunately, will be many people's first/last impression of the band. Soundgarden has old man strength…they aren't 6-packed or sexy but they've got 30 years of stuff to work out on stage and you'd better not get in the way. NIN isn't goth or crazy, they are impeccable performers who worked through some really bad sound tonight. If you were at the show tonight, don't assume NIN always puts on such a quiet show, don't judge this show by its calm and mild-mannered cover.
New bands take note, engage your fans, play loud, give them a mix of what they want and what you want, just make sure you earn the trust to play the new stuff. And most importantly, never ever stop…get old, play the music you love, find the people that want to hear it and keep doing it together.
Soundgarden Setlist – Searching With My Good Eye Closed, Spoonman, Flower, Outshined, Superunknown, The Day I Tried To Live, Been Away For Too Long, Burden In My Hand, Blow Up The Outside, Fell On Black Days, Rusty Cage, Black Hole Sun, Beyond The Wheel
NIN Setlist – Copy of A, Sanctified, Came Back Haunted, 1,000,000, March of the Pigs, Piggy, Terrible Lie, Closer, Down In It(piece), Gave Up, Disappointed, Find My Way, The Great Destroyer, Eraser, Wish, The Hand That Feeds, Head Like A Hole, Hurt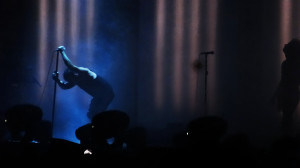 (if this blog takes off I'll be able to bring in a camera and not use an iphone)
peace,
Daniel